The Defender CDI4* FEI Dressage is returning to Royal Windsor Horse Show for the 2023 edition, attracting some top-class riders to the private grounds of Windsor Castle. The competition will run over two days, with the Grand Prix taking place in front of a limited audience on Wednesday 10 May, whilst the Freestyle to Music is set to be in front of a packed crowd on Thursday 11 May.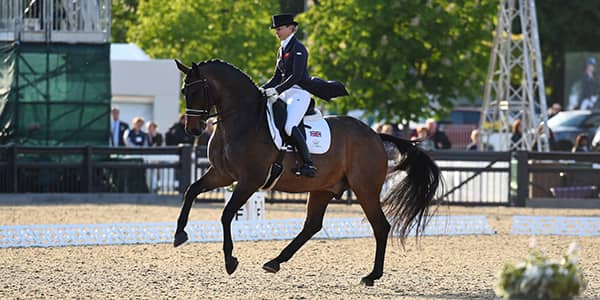 Among the strong British contingent are Gareth Hughes and Richard Davison, who were both part of the British team to win a bronze medal at the FEI World Championships in 2022. Hughes has amassed over 60 national and international titles over the last 10 years. He was the British team reserve at the Tokyo Olympic Games and won FEI European Championship team silver in 2021. The 2022 British national champion will be looking to kick-start his 2023 season at Royal Windsor with his FEI World Championship mount Classic Briolinca. Davison, a four-time Olympian, will bring the experienced Bubblingh to Windsor.
Davison said: "I always look forward to competing at Royal Windsor, everyone is so welcoming and friendly, the surface is amazing and there is an incredible atmosphere, plus having the Castle in the background makes it feel even more special."
Laura Tomlinson ended her 2022 season with success in the Grand Prix Special at Keysoe CDI3* aboard Fallatijn, the horse she plans to ride at Windsor, so will be hoping to start her 2023 outdoor season in similar fashion. At 60-years of age, Emile Faurie aboard Bellevue, the horse he rode at the London International Horse Show in December, will bring his experience to the famous Castle Arena, however at the other end of the spectrum, Lewis Carrier will be making his debut at Windsor with his long-time partner Diego. Also representing Great Britain will be Louise Bell, who in previous years might have been more likely to have been seen in the outside arenas at Royal Windsor during her time as a top Showing producer, but has now made the successful transition to international Dressage and will compete with Into The Blue. The pair were fourth at the Show in 2019 when international Dressage was last held at Royal Windsor. Daniel Watson and Hayley Watson-Greaves will complete the British contingent competing.
Ireland will have strong representation at this year's Show. Abigail Lyle will be riding her highly experienced 20 year-old Farrell, who in 2022, not only qualified for the World Dressage Championships in Herning, Denmark, but also successfully competed at CDI's in Keysoe, Compiegne, Wellington Heckfield, and Hartpury. Kevin Acres has already topped the podium with Ganesh in 2023, so will be hoping his form continues at Windsor. Rounding off the Irish trio will be Anne-Marie Rawlins with Etoile – a ride she has inherited from her father, Dane Rawlins, who partnered the gelding at Royal Windsor in 2019.
Completing the stellar list of Defender CDI4* Dressage entries will be Sarah Rao of China and Germany's Kathleen Kröncke. Kröncke will be riding San Royal 3, the horse she rode to victory in the Freestyle in the LeMieux National Dressage Championships, the CDI3* at Hartpury and CDI4* at Hamburg in 2022.
Show Director, Simon Brooks-Ward, stated: "We're delighted to welcome the return of the Defender CDI4* Dressage and are very much looking forward to seeing the action unfold, especially with such a competitive field."
The return of Defender CDI4* Dressage to this iconic venue now means that Royal Windsor Horse Show is the only show in the UK to host international competitions in Show Jumping, Dressage, Driving and Endurance.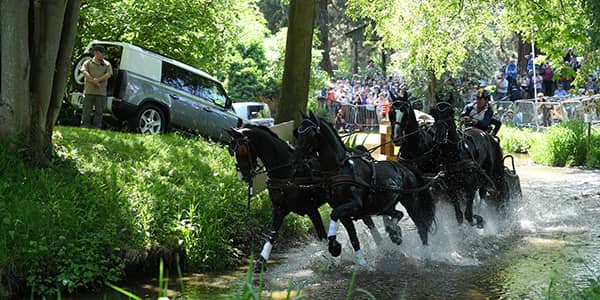 The International Carriage Driving will also see some of best in the sport go head-to-head over three days of intense action.
The Horse Four-In-Hand will be led by World No. 1, Boyd Exell representing Australia, already an 11-time winner at Royal Windsor and most recently victorious in the FEI Driving World CupTM Final held in Bordeaux. The six-time World Champion, who is now based in the Netherlands, will be looking to claim the title once again in 2023. Exell will face stiff competition from the experienced Ijsbrand Chardon. The Dutchman has competed in every World and European Championship since 1982, and has accumulated multiple titles during this period. Chardon started the 2023 season strongly with victories in the CAI3* events at Exloo and Kronenberg. Compatriot, Koos de Ronde, a five-time Dutch National Champion, will be looking to reverse the form from Kronenberg earlier this month, where he finished second behind Chardon.
Adding to the strong line-up will be Chester Weber, the 20-time US National Champion, who knows what it takes to win in Windsor, having claimed the title twice already in his illustrious career. Germany will be represented by Mareike Harm, the first woman ever to qualify for a FEI Driving World Cup™ Final. Harm will be returning to competition following the birth of her daughter in February. Frenchman Anthony Horde will travel to Windsor full of confidence following a 2nd place finish in the Four-In-Hand at CAI3* Exloo earlier in the year.
Brooks-Ward said: "The Driving is always a thrilling contest and Boyd has obviously dominated proceedings in recent years. His FEI World CupTM Final win suggests he will once again be tough to beat, but nothing in sport is guaranteed, so it's sure to be an exciting few days of competition."
Ewoud Boom is another heading to Windsor in fine form following a third-place finish in the Horse Pairs at CAI3* Kronenberg. Also travelling across from the Netherlands to contest the Pairs will be Rens Egberink and Erik Evers. They will be joined by husband and wife duo, Scott Dancer and Kathrin Dancer who have both represented the USA at multiple World Pair Driving Championships. German-born Baroness Amely von Buchholtz will be representing Argentina, with Hungarian Driver Martin Hölle and Marc Theisen from Luxemburg adding to the international nature of the field.
Kelly Houtappels-Bruder, who actively competes in both Driving and ridden Dressage competitions, will lead the way in the Singles. The Canadian, now based in the Netherlands, was the World Championship individual silver medallist in 2020 and bronze medallist in 2022. Houtappels-Bruder will be joined by father and daughter pair Franz Schiltz and Marie Schiltz of Luxemburg. Franz Schiltz, the current FEI Athlete Representative for Driving, has regularly represented Luxemburg at Championships for 20 years, with Marie following in her father's footsteps following a successful youth career, which included an individual silver medal at the FEI European Youth Championships in 2021.
A full list of entries can be found here.