Royal Windsor Horse Show has received a stellar list of international Show Jumping entries for the 2023 edition, taking place from 10–14 May.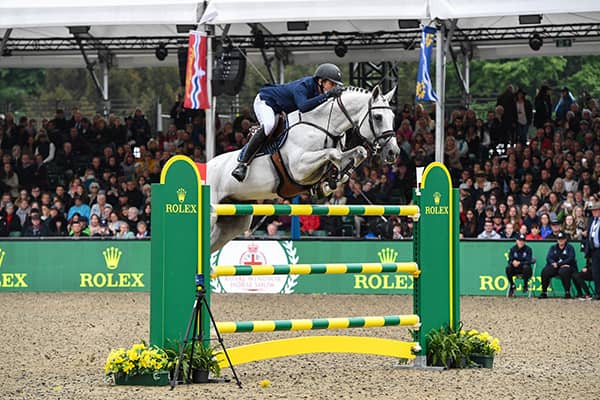 Leading the way will be last year's Rolex Grand Prix winner, Gregory Wathelet, who will be hoping to retain his title in the prestigious class. Belgium's Wathelet said: "Our win in 2022 was amazing, as always with a Rolex Grand Prix, it is a big challenge against the best riders in the world. It's always a super atmosphere at Royal Windsor, it's a super show and the crowd is always very good, we always enjoy competing there."
The Rolex Grand Prix, worth €500k, will conclude a magnificent three days of international Show Jumping on Sunday 14 May, and Wathelet will face stiff competition throughout the weekend.
All four members of the British World Championship team to win a bronze medal in 2022 – Ben Maher, Joseph Stockdale, Harry Charles and Scott Brash – will be heading to Windsor with the hope of impressing selectors ahead of this year's European Championships.
Maher, who will be making his comeback from injury, will be looking to reclaim the Rolex Grand Prix title he won in 2021 enroute to individual Olympic glory in Tokyo, but will face fierce competition from his FEI World Championship teammates, who are in top form. Charles' recent top 10 finish at the FEI World CupTM Final in Omaha is testament to the consistency of the Under-25 World No. 1, whereas Brash already has a 5* victory under his belt in 2023.
Royal Windsor Horse Show Ambassador Stockdale, also knows what it takes to win at Royal Windsor, having previously won the Under-25 Championship and the Puissance in the iconic Castle Arena. Looking ahead to 2023, which marks the 80th anniversary of the Show, Stockdale said: "Royal Windsor Horse Show is such a prestigious Show, and it is such a special place to compete. I will be bringing two or three horses with me including my FEI World Championship horse, Equine America Cacharel, who I will be jumping in the Rolex Grand Prix on Sunday."
Stockdale will be joined by fellow Royal Windsor Horse Show Ambassador Jack Whitaker. The young rider has cemented himself on the senior circuit in recent years, becoming a regular on FEI Nations CupTM teams. Of the Show, Whitaker said: "The Show is one of my favourites of the year, and one that I always plan my season around. With less than a month to go, all of the team and myself are really focused on our final preparations so that my horses and I are at our peak."
Whitaker will be joined by his uncle, John Whitaker. The 67-year-old is sure to have the home crowd on their feet as he hopes to use his experience to outdo his younger rivals. Included within this are two of the stars of the London International Horse Show 2022 – winner of the Turkish Airlines London Grand Prix, Matthew Sampson, and leading rider of the Show, Jodie Hall-McAteer.
A strong international contingent will provide stiff competition to the British hopefuls. World No. 3, Martin Fuchs, winner of the FEI World CupTM Final in 2022, has come close to winning the revered Rolex Grand Prix in the past, so he is sure to be seeking the victory which has eluded him. Similarly, Austria's Max Kühner and Israel's Daniel Bluman, who finished second and third respectively in 2022, will be looking to use this experience to improve on last year's position.
Former Rolex Grand Prix winner Steve Guerdat knows what it takes to take victory in the famous Castle Arena. The individual gold medallist from the London 2012 Olympics will be joined by the USA's Kent Farrington, who also returns to Windsor seeking to reclaim the same prestigious title he won back in 2017.
Germany will have a formidable representation at the Show, with entries including the former World No. 1, Daniel Deusser, another to have tasted success at Windsor in the past. His Olympic bronze medal-winning teammate from Rio de Janeiro, Christian Ahlmann will also be hoping to write his name in Royal Windsor Horse Show history books, alongside Philipp Weishaupt, a recent 5* winner in Doha.
Also heading to Windsor in top form is Ireland's Bertram Allen, winner of several 5* classes at the Winter Equestrian Festival in Wellington earlier this year. He will be joined by compatriot Daniel Coyle and Dennis Lynch, another to have topped the podium in Doha. Luxemburg's Victor Bettendorf has climbed the World rankings rapidly over the past year following a string of excellent results, including victory in the prestigious Grand Prix Hermès at the Saut Hermès in March.
In addition to Gregory Wathelet, Belgium will also be represented by an impressive trio; Wilm Vermeir, who in January had a spectacular victory in the FEI Jumping World Cup™ Qualifier at Mechelen, Olympian Abdel Saïd and Koem Vereecke, who played a vital role in securing Belgium's 2022 FEI Nations CupTM Final win and claim Paris 2024 spot.
Rounding off the strong line-up for the 5* Jumping at Royal Windsor will be France's Kevin Staut and Roger Yves Bost, team gold medallists from the 2016 Olympic Games in Rio de Janeiro, Greece's Ioli Mytilineou who burst into the international scene at the 2021 European Championships, and Italy's ever-competitive Lorenzo de Luca.
A full list of entries can be found here.