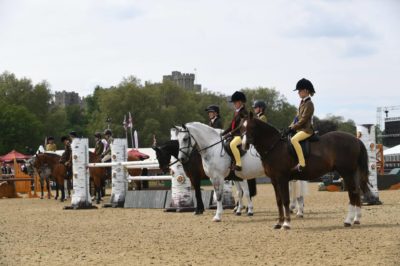 Organisers of Royal Windsor Horse Show today announced a record-breaking number of entries for this year's Show. Almost 3,000 entries have been received across the national Showing, Show Jumping, Carriage Driving and Dressage classes.
Show Director Simon Brooks-Ward commented: "It is very gratifying to see the level of entries for Royal Windsor growing so well. The team work hard to put together a schedule that appeals to all levels of competitors and I am proud that their work is paying off."
Chief Showing Steward Nigel Hollings said: "To see an incremental increase of entries every year is a feat which should not be understated, particularly given the new rule changes that have been brought in this year. I'm sure it will be another special year to remember for the Show, and we are excited to see which competitors come out on top."
National Showing
Hosting over 140 Showing classes, the 2019 edition of Royal Windsor Horse Show will welcome some of the biggest names in Showing, as competitors travel from far and wide in the hope of being crowned champion.
Names to look out for this year include former racehorse Cue Card, a prolific National Hunt racer who won an incredible 16 races in his career, including one at the Cheltenham Festival in 2010. Cue Card will be competing in the RoR Open In-hand Show Series Qualifier, after recently joining renowned Showing producer Katie Jerram-Hunnable at her home in Essex.
Further complementing the Showing line-up will be Buckinghamshire-based Irishman, Rory Gilsenan, who, only three months after undergoing emergency cancer surgery, returns to the Working Hunter stage at Royal Windsor, where last year he claimed the Working Hunter crown on the now-retired mare, Kenlis Carrera. Whatever happens at Windsor, Rory will undoubtedly receive warm applause from spectators in the Castle Arena.
Speaking ahead of the event, Rory's wife, Vanessa, said: "He's so intent on competing at Windsor that he wouldn't risk starting the next round of chemo in case it made him too tired. He is determined to try and win again here – it's like no other venue in the world."
Sure to be keeping a watchful eye on her own horses will be Her Majesty The Queen, who will be hoping to replicate her many years of success at the annual equestrian event, particularly after she won the 2018 Part-Bred & Anglo-Arab Championships with Whalton Highwayman.
National Show Jumping
In addition to the CSI5* International Show Jumping classes, Royal Windsor Horse Show also offers top-class National Show Jumping action, with several of the UK's most talented riders confirming their attendance at the Show. Ben Maher, who currently sits at No. 7 in the FEI world rankings list, will be one to watch, as will young rider Emily Moffitt, who has reaped the benefits of being trained by Maher. Both riders will be going head-to-head in the H&C TV Senior 1.35m Open Jumping Competition.
One of Britain's leading Show Jumpers, Laura Renwick, will be looking to further improve her already sterling reputation at Windsor but will be up against good competition including husband and wife, William and Pippa Funnell, and the rapid Guy Williams, who will have spectators holding their breath, as he competes across a range of classes with his Dutch Warmblood, Mr Blue Sky UK.
This year's Show will welcome a strong contingent of young British talent, as many of the next-generation Show Jumpers confirm their attendance. Young names to look out for include 20-year-old Joseph Stockdale, and brothers William (20) and Oliver (16) Fletcher. All three riders – who have had exciting starts to their careers – will take each other on in the The ClipMyHorse.TV Under 25 Jumping on Sunday 12 May, bringing in the hottest young talent on the Show Jumping circuit.
Another surname that carries a lot of weight within the equestrian community is that of Alfie Bradstock, son of Cheltenham Gold Cup-winning National Hunt trainer Mark Bradstock. Having already represented Great Britain in both Eventing and Show Jumping, the 25-year-old is now firmly committed to Show Jumping and will be looking to continue his impressive form at Royal Windsor Horse Show.
Tickets to Royal Windsor Horse Show can be booked online at rwhs.co.uk or by calling the box office on 0844 581 0755 from the UK and +44 (0)121 796 6100 internationally. Windsor residents should call the Windsor Information Centre on 0175 3743 589.