Royal Windsor Horse Show, taking place from 11-14 May 2023, will welcome over 1,800 entries across all Showing and national Show Jumping competitions, setting the scene to provide a spectacle of top-level equestrianism.
Simon Brooks-Ward, Show Director, said: "Royal Windsor Horse Show has been delighted to see such a high number of entries coming in for the 80th edition of the Show. The four days of competition will be a real showcase of the exciting national talent that we have in our country, and we are looking forward to welcoming everyone to this special edition of the Show."
National Showing
Once again, the biggest names in Showing will gather in the private grounds of Windsor Castle for what is regarded as the start of the Showing season. With over 1,700 entries, including 15 from His Majesty the King, the competition is set to be intense. This is a large increase from 2022, when just over 1,300 entries were received, demonstrating the growing prominence of Royal Windsor on the calendar.
One of the most prestigious titles in the world of Showing, the Hunter Championship, will be more open than ever this year as Cheshire master-showman Robert Walker has retired his record-breaking lightweight, View Point, who made history last season when standing champion at Royal Windsor Horse Show for the fourth consecutive time. Walker, the ultimate horseman, has six entries across the Hunter category and will be looking to retain his title.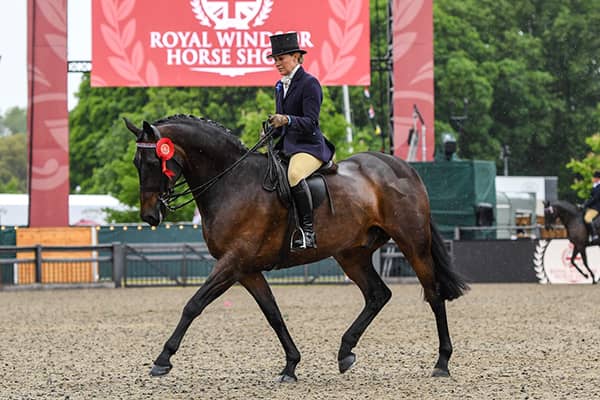 The 2022 Retraining of Racehorses Tattersalls Thoroughbred Ridden Show Horse Championship was won by Minella Rebellion and Katie Dashwood. Dashwood will return with the 11-year-old brother to Cheltenham Festival winner Balthazar King, hoping to repeat their success. Last year's Riding Horse Champions, Times Square III and Danielle Heath, Senior In Hand Champions, Randall IV and Lucy Ashworth and Martin Collins Enterprises Cob Champions Chantilly Sandman and Jayne Ross are some of top combinations seeking victory at the Show once more.
Another recognisable competitor taking centre stage at this year's Show will be equestrian influencer, Harlow White. White will make her debut at the Show, riding Coppinshill Commemoration in both the BSPS Mountain & Moorland Ridden (Dartmoor, Exmoor, Shetland) sponsored by New Horizon Plastics and the BSPS Mountain & Moorland Open First Ridden.
A notable addition to the 2023 schedule are the Pretty Polly classes, which have received an impressive 85 entries, from Mountain & Moorland to Show Pony. Of the new classes, Brooks-Ward commented: "The Show is delighted to showcase and celebrate such a wide selection of home-produced ponies and we wish all the competitors the best of luck."
National Show Jumping
Alongside the CSI5* international Show Jumping classes, Royal Windsor Horse Show will showcase home-grown talent in its four national Show Jumping classes. Brooks-Ward acknowledged: "Hosting the national Show Jumping at Royal Windsor is important to us, giving the country's top national riders an opportunity to compete at such a prestigious venue and providing younger horses and riders with invaluable experience to progress and hopefully move up to an international level in the future."
Action commences with the Al Shira'aa Senior Foxhunter, for horses who have won less than 700 British Showjumping points in their career, on Thursday morning in the Martin Collins Enterprises Frogmore Arena. Last year's victor, Emily Sage, returns to the Show with high hopes of retaining her title with one of her two rides, Vogue TW and Stalua PS. Also contesting the class will be some of the most notable names in Show Jumping including Ireland's Shane Breen, Royal Windsor Horse Show ambassador Joseph Stockdale, as well as Pippa and William Funnell, who alongside their Billy Stud riders bring 12 horses to this class.
The following class, the National 1.40m Open, is always highly competitive, and the 2023 edition will have over 40 entries. With four entries, The Billy Stud will provide stiff competition, but last year's winners Sally Goding and Spring Willow will hope to use their experience of the famous Castle Arena to reclaim the title.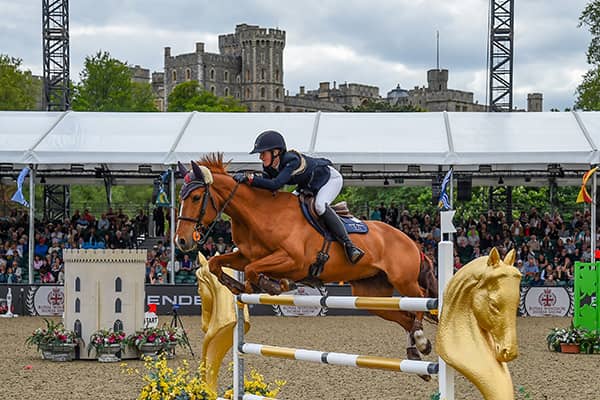 A highlight for many will come from Thursday night's Martin Collins Enterprises Puissance. The Puissance dates back over 100 years and is one of the most exhilarating competitions in the Show Jumping discipline. Amongst the horse and rider combinations to take on the iconic 'red wall' will be last year's joint winner, Derek Morton, who is sure to be the favourite heading into the competition. He will be joined by 2021 winner, Joseph Stockdale, as well as France's Dan Delsart riding Granby, an experienced Puissance combination.
Showcasing the most exciting up-and-coming homegrown talent is the Defender Under-25 Jumping Competition held in the Castle Arena on Sunday morning. Fourth in the class last year, and returning with new mount Chilli, is Nicole Lockhead Anderson, who is continuing to rise up the FEI Under-25 rankings. She will come to Royal Windsor Horse Show on the back of numerous wins in Vejer de la Frontera in the spring. Rising star Claudia Moore will partner her FEI Young Rider European Championships mount Hardesther and will be looking to impress. The 19-year-old is joined by FEI World Championship team bronze medallist Joseph Stockdale. Stockdale, a former winner of this class, knows what it takes to win at this iconic venue. Jennifer Sponer is another to look out for, as she partners Scott Brash's former five-star ride Hello Shelby, and will be hoping his experience can lead her to victory. Maisy Williams will once again ride her father, Guy Williams' Puissance specialist Mr Blue Sky UK in this prestigious class.