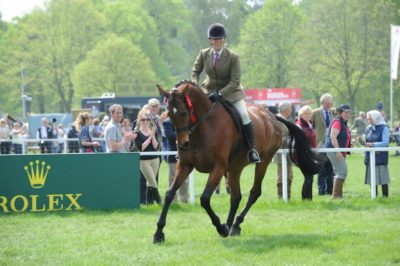 Organisers of CHI Royal Windsor Horse Show, which is celebrating its 75th year this year, are pleased to announce National Entries for the 2018 event, taking place from 9 – 13 May, are open this week.
Entries for Show Jumping classes open today and will close on 13th March. Entries for all other national classes will open tomorrow, 7th March, and will close on the 29th March.
The week's action-packed programme, taking place across the Show's five arenas, is expected to attract competitors of all ages from around the country as they strive for the highly sought after Supreme Ridden Showing Championship title, the highlight of the week's competition, following in the footsteps of Her Majesty The Queen's former racehorse Barbers Shop, ridden by Katie Jerram-Hunnable (pictured) in 2017.
On Wednesday 9 and Thursday 10 May, National Show Jumping competitions will return to the Castle Arena for a series of classes, hosting the cream of British riders from Grade A to Novice level. Competitions include the Land Rover A & B Jumping won by local rider Laura Mantel at the 2017 event, and the Land Rover Inter Schools Show Jumping competition, an opportunity for school-age riders to go head-to-head.
Returning for the second year will be the hugely successful Oxford VS Cambridge Varsity competition on Saturday 12 May. The long-standing rivals will be contending in a two-part competition consisting of Dressage and Show Jumping.
Highlights of the National competitions at CHI Royal Windsor Horse Show 2018 include:
• Wednesday 9 May
o National Show Jumping
o Hunters (Novice, Open, Amateur, Ladies and Small)
o Part Bred and Anglo Arabs
o Hackneys
o Senior Showing Championship, Ridden and In Hand
• Thursday 10 May
o National Show Jumping
o Working Hunters
o Polo Ponies
o RoR Tattersalls Thoroughbred Ridden Show Horses
o Coloureds, Ridden and In Hand
o Private Driving
o Inter Hunt Team Knock Out
• Friday 11 May
o Horse & Hound Mountain and Moorlands In Hand
o Martin Collins Enterprises Cobs (Novice, Open, Amateur)
o Hacks (Novice, Open, Amateur)
o Sword, Lance, Revolver and Tent Pegging
o Haflingers
o Coaching Marathon
• Saturday 12 May
o The Oxford-Cambridge Varsity Match
o Show Pony Championship
o Mountain and Moorland Working Hunter Ponies
o BSPS Mini Mountain & Moorland Championship
o Novice Show Ponies
o Child's First Ridden and Leading Rein
• Sunday 13 May
o Royal Windsor Supreme Ridden Showing Championship
o Riding Horses sponsored by Mr & Mrs Phil Swallow
o Show Hunter Ponies
o Working Hunter Ponies
o The Champagne Laurrent-Perrier meet of the British Driving Society
o Pony Club Tetrathlon
o Lusitanos and Andalusians
o Appaloosas