Her Majesty The Queen was present for the penultimate day of the Horse Show which saw Trooper Fisher RHG/D awarded The Best Turned Out Trooper, with his horse Falkand, in front of packed grandstands in the grounds of Home Park (Private).
Her Majesty took part in prize giving ceremonies in the Castle Arena, including the Kingdom of Bahrain Stakes for The King's Cup and Her Majesty The Queen's Challenge Cup For Service Team Jumping. Nick Skelton also received the BHS Queen's Award for Equestrianism ahead of his retirement at the Show tomorrow.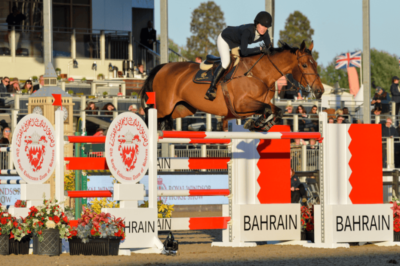 The second day of International CSI5* Show Jumping kicked off in spectacular style with the 1.55m Kingdom of Bahrain Stakes for The King's Cup, which saw Egypt's Abdel Saïd triumph in a tightly fought contest.
The tight time-allowed in the first round added to the complexity of the course, which was twisty and up-to-height and saw only eight of the 29 starters jump clear. Sixth to go, Cheshire-based Irishman Billy Twomey, broke the deadlock, and his clear round was emulated by some of the best riders in the World, including World No. 1 Kent Farrington and Olympic gold medallists Ben Maher and Eric Lamaze, setting up an exciting jump-off for the £52,500 prize fund.
As second to go in the jump-off, last year's winner, Kent Farrington, set a blistering pace aboard his striking grey gelding, however an extra stride before the last meant his time of 43.01 seconds was within reach to those who followed. Abdel Saïd followed, riding AS Sport Horses' Hope Van Scherpen Donder and set-off meaning business. The nimble bay mare jumped faultlessly, making the tightest of turns and galloping to the last, to take over the lead from the current World No. 1. Britain's Ben Maher put up a good challenge, with an immaculate display of jumping, however his time of 42.86 seconds was only good enough for second place.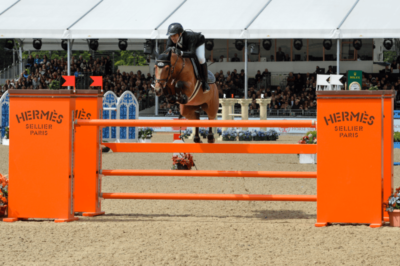 The Show Jumping action culminated with the 1.50m Falcon Stakes, a two-round competition whereby the top ten from the first round were guaranteed a spot in the jump-off. With only eight clears in round one, this paved the way for the fastest four faulters, Billy Twomey and Ben Maher.
Local rider William Funnell jumped a fantastic round with homebred mare Billy Fanta, a nine-year-old by Billy Congo, to take the lead with just four riders left, however it was last to go, America's Jessica Springsteen, who took the victory in impressive style. The daughter of rock legend Bruce Springsteen shaved over two seconds off Funnell's time, riding the in-form Davendy S.
Following her success Jessica said; "She [Davendy S] is unbelievable, she jumped great, it was definitely an advantage to be towards the end but she's so competitive, she always goes out and wants to win so she's a lot of fun to ride. It's so much fun here at Windsor, there's such an amazing atmosphere with the crowds, it's one of my favourite shows.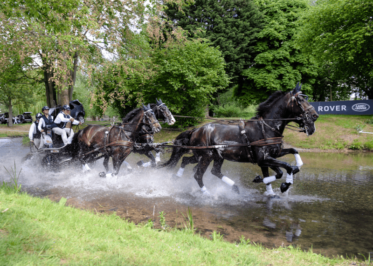 Last to go in today's Land Rover International Driving Grand Prix cross-country marathon, Boyd Exell steered a true and steady course through each of the eight obstacles to increase his lead to a comfortable 10+ penalty points. The course had presented few problems to the nearly 60 competitors across Horse and Pony Four-in-Hands and Horse Pairs, but the four times world champion from Australia gave a final masterclass in controlled obstacle driving to stay in pole position ahead of Holland's Theo Timmerman, still in second place. Edouard Simonet from Belgium moved ahead of Koos de Ronde from the Netherlands to take third place less than 1-pen behind Timmerman.
Tomorrow's final phase of cones driving looks set to be particularly exciting in both Horse Pairs and Pony Fours. In Horse Pairs less than two penalty points separate the top three placed competitors. Lars Schwitte from Germany retained his lead narrowly from Holland's Harrie Verstappen, a previous Horse Pairs world champion and Royal Windsor winner, driving his trademark skewbald KWPNs. Verstappen moved up from 6th place to overtake Michael Sellier, current French National Champion. Now lying third, Sellier, a protegee of Boyd Exell's, is competing at Royal Windsor for the first time.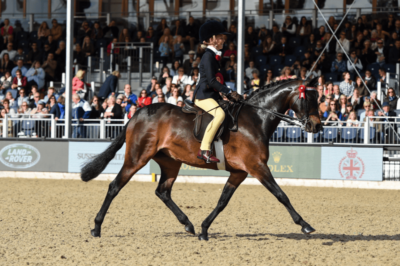 Small proved beautiful in the Castle Arena today when the two 128cm show pony contenders, Yorkshire-based Whiteleaze Aurora with Mia Donaldson and the Jago/Carvosso team's Tuscany Sweet Serenade, partnered by Charlotte Tuck, stood champion and reserve after giving superb performances in front of an appreciative audience which included HM The Queen.
The result came after strong classes described by visiting South African judge Gregory Goss as: "full of the best ponies I've ever seen. The British riding pony is the envy of the world and I was blown away by the quality on show here."
The coveted Novice Show Pony title headed to Hertfordshire via Ro Rennocks' home-bred Team Harvey-produced 138cm victor, Rendene Secret Charm, beautifully ridden by Ellis Taverner-Burns. Harriet Dennison and Di Brereton's working Highland stallion Dunedin Duncan headed a  marathon BSPS Heritage Mountain and Moorland Ridden section, one of the most prestigious titles for native ponies on the show circuit.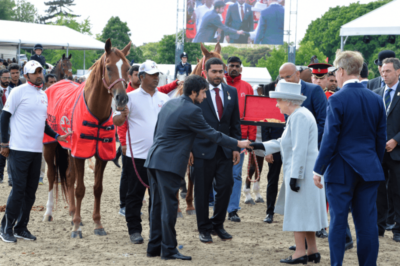 Following yesterday's Royal Windsor Endurance supported by the Kingdom of Bahrain, today saw the presentation of awards in the Castle Arena to the first five riders in the CEI2* 120km and CEI1* 80km and their horses.
Her Majesty The Queen and His Majesty Hamad bin Isa Al Khalifa, King of the Kingdom of Bahrain presented Saeed Hamoud Saeed Al Khayari (UAE) winner of the CEI2* and Bahrain's Ali Abdulla Mohamed Al Subaie, winner of the CEI1* with a Saif (ceremonial sword) and the second and third finishers with a Khanjar (ceremonial dagger).
Yesterday was the fifth Royal Windsor Endurance event, but the first to add the CEI1* 80km and a national 40Km ride, alongside the CEI2* 120km. 101 horses from 12 nations including France, Spain, Uruguay and Morocco, rode through Windsor Great Park, taking in Ascot Racecourse and a number of famous landmarks.