The most sought-after equestrian, country and luxury brands will once again be hosted in the private grounds of Windsor Castle from 11-14 May, as Royal Windsor Horse Show's Shopping Village returns.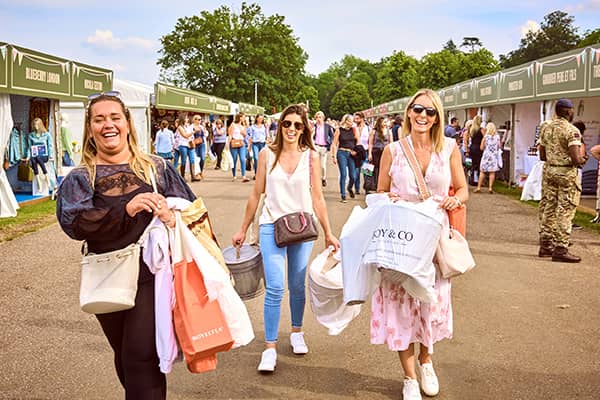 190 Shops will be presenting their pop-up retail stalls as a part of the Show. The Shopping Village hosts country lifestyle goods – including art, sculpture, tailoring, fine jewellery, wine, furniture, as well as representation from high-end brands such as sponsors Hermès. Alongside the lifestyle goods, there will be a huge range of equestrian tack and equipment stalls ready for the 55,000 attendees who flock to the annual event, which kicks off the summer season.
With ease of the shopper in mind, the organisers have separated the Shopping Village into four areas: Horse & Rider, Country Lifestyle & Living, Jewellery & Fashion and the Royal Warrant Holders Association Pavilion.
Those looking to get their fashion fix will be delighted to find some of the most coveted country brands at the Show. Classic favourites such as designer bootmakers Fairfax & Favor will be joined by a curated selection of new-to-the-show brands including apparel from Beatrice Von Tresckow and Gabriela Rose London and hats by Rachel Clunie Milinery. Popular clothing company Welligogs will also be located in the Jewellery & Fashion Quarter, with their brand focusing on luxury country wear including classic tweeds, modern styled jackets, practical luxury waxed cotton outerwear and waterproof leather boots. Adding to the footwear selection will be Lanx Shoes, an English shoe company creating shoes for all occasions, from the boardroom to the bar. Launched at the Show in 2019, Latham & Taylor produce beautifully tailored British designs and collections for all those that love country fashion, with finest British tweed coats and jackets, premium cashmere garments and sporting attire all on sale.
Looking ahead to the Show, Emily Latham-Taylor of Latham & Taylor stated: "Royal Windsor Horse Show is a very special event for Latham & Taylor as we launched our country clothing family business at the show in 2019. We couldn't think of a more perfect event to showcase our products that are all made in the UK at an event that makes you incredibly proud to be British."
The Show will also host a variety of lifestyle and living vendors, for those looking to add to their home furnishings. Visitors will find all types of goods to suit their needs, whether their style is quirky, modern or classic! Foy & Co specialise in high quality fabrics, throws, accessories and hand-made cushion covers, Collier & Dobson have works of art ranging from sculpture, painting whilst Crown Oak Furniture are showing their solid handcrafted British-made furniture for kitchens, dining, and storage solutions.
For those who are inspired by the sensational equestrian action taking place at the Show, there will be a wide variety of equestrian stalls. Ticket holders will have the whole run of equestrian products from browbands from SHOWPONYPREP® to horseboxes from Whittaker Coach Builders. Sportswear brand Aztec Diamond will be present with their new competition wear – all designed in the UK. Providing equestrian clothing for women and children, the brand will also be exhibiting their collection with hugely popular equestrian influencer Harlow Luna White. Riders will be able to kit their horses out in some of the world's best saddlery by visiting Voltaire Design and English Bridles.
A vast array of fabulous food and beverage options will be available to cater for all wants and needs. Adding to the spectacle of the Shopping Village, guests can also enjoy fun entertainment on the South Lawn whilst sipping on a glass of Champagne Pol Roger in the brand-new Pol Roger Lawn enclosure.
Simon Brooks-Ward, Royal Windsor Horse Show Organiser, stated: "We strive to provide our guests with one of the best outdoor Shopping Villages within equestrianism. It is of upmost importance for us to create a Show that not only showcases the best equestrian action, but also provides our ticket holders with top-class shopping, food and entertainment."