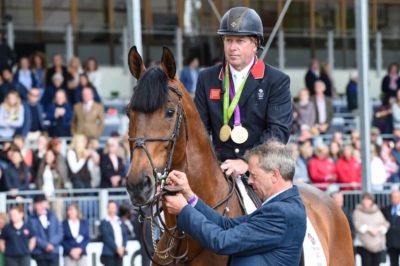 It was an emotional final day at Royal Windsor Horse Show as the crowds took to their feet to witness Show Jumping legend, Nick Skelton and his gold medal winning horse, Big Star, stand together in the arena for the last time. In front of Her Majesty The Queen and packed out grandstands, Skelton was joined by his family, owners, fellow Team GB riders and loyal groom, Mark Beaver, to say his final goodbye.
Skelton's youngest son, professional jockey Harry Skelton, was unable to attend due to racing commitments but left a message for his father that was read out to the crowd;
"Dad, I'm so sorry I'm not there, but when I asked you if I should go racing today or come down to Windsor, you said, go and do your job and try and ride some winners. I thought; that is what has got you to where you are, your hard work, dedication and determination. My first great memory of you in the ring was when Dollar Girl won the World Cup Final in 95. You went through so much from then to Rio 2016, and when you finally reached your childhood dream to take individual gold, was the best day of my life. I am the proudest son alive and so glad you've stopped at the top. I hope I will make you as proud as I am of you one day. See you later, love you, Harry."
There was not a dry eye in the house as Skelton dismounted Big Star, took the saddle off his back – a long standing tradition when a horse is retired – and walked a final lap of honour in-hand to a standing ovation, with the crowd cheering to mark their respect and admiration for Skelton, whose career spanned five decades. With a final wave to the adoring crowd, the Olympic gold medal winning duo exited the arena to start their well-deserved retirement.
SHOW JUMPING: FARRINGTON REIGNS SUPREME IN ROLEX GRAND PRIX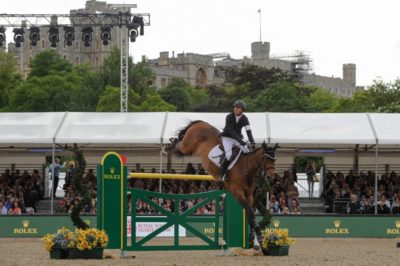 The pinnacle of Royal Windsor Horse Show, the much-anticipated Rolex Grand Prix, did not fail to disappoint. With 30 World class riders lining up to win over £254,000, the competition was hot, and Bob Ellis' 1.60m course reflected the high standard. Four-time European gold medalist, Michael Whitaker was the first to jump clear aboard JB's Hot Stuff, with whom he won the Antwerp Grand Prix last month. He was in good company as the likes of World No. 1 Kent Farrington, last night's winner Jessica Springsteen and Olympic gold medalists Scott Brash, Laura Kraut and Eric Lamaze followed suit.
The jump-off had the packed crowds on the edge of their seats as 12 riders came forward to compete for the £63,000 first prize. When Britain's Guy Williams came in to the famous Castle Arena as second to go, jumping clear in a time of 43.45, it looked like his time would be hard to catch, however with the best riders in the world to come nothing was certain.
Jessica Springsteen rode a fantastic round, taking a flyer to the up-to-height Bahrain oxer in front of the Members Enclosure to make up valuable time and momentarily took the lead, however with Kent Farrington next into the arena, her lead did not last long. The defending champion made the tightest of turns to the tricky Tower Bridge water tray and pushed on throughout to knock over three seconds off the previous leader's time and lay down the gauntlet to his competitors.
World No. 4 Eric Lamaze flew round, however he took one too many risks and paid the price finishing with four faults, albeit in the fastest time of the day. Home favourite Scott Brash, riding his talented mare Ursula XII, put up a good challenge much to the crowd's delight, to finish in third, and Lorenzo de Luca and Halifax van het Kluizebos secured second as last to go, but it was only Kent who managed to break the elusive 40 second barrier, proving why he's the best in the world.
Speaking at the Rolex Grand Prix press conference, Kent said, "I was really thrilled with my horse, he is just stepping up to this level and he was unbelievable, I couldn't have asked for more. This is one of my favourite shows and I'm not just saying that because I won here today. There's a combination of an amazing setting, an unbelievable crowd, top course designing and great footing. That is the best of the best, and now with Rolex stepping up and making this a 5* event, it's on par with the best in the world."
Kent went on to discuss the impending retirement of childhood hero Nick Skelton and his double Olympic gold medal winning partner Big Star, "I have always looked up to him my whole career and getting to ride with him at high level has been unbelievable… Our sport is about that great connection with a horse and Nick and that horse [Big Star] became a real team, they had a tremendous comradery, they know each other so well and that showed at the Olympics at the highest level of the sport, with them being able to deliver on the big day."
Earlier in the day, the Palm Speed Stakes, saw competitors jumping one round against the clock for a total prize fund of £23,300.
The twelve-fence course proved tricky, with a double of verticals down the last line catching many of the riders out. The first clear came from Switzerland's Pius Schwizer, who jumped a deceptively quick round to set the pace for those that followed. The always competitive Schwizer, riding Leonard de la Ferme CH, posted a time of 61.47 seconds, which proved hard to match.
Several riders came close, including Tiffany Foster with the eleven-year-old gelding Brighton and Laura Kraut with Whitney, already winners in the Castle Arena this week, however their rounds were only good enough for third and fourth positions respectively. However it was Billy Twomey, towards the end of the draw, who managed to clinch victory aboard Sue Davies' grey gelding Tin Tin, shaving 0.65 seconds off Schwizer's time. The Irishman took advantage of Tin Tin's big stride to make up time between fences and made all the turns required to top the leader board.
"I'm absolutely delighted", said Billy after the class, "The horses had to be really careful out there today, but the course worked in our favour as I was able to miss out a few strides here and there!" The Cheshire-based rider continued, "It's great to be competing at 5* level here at Windsor, it's a great show and it's nice to be on home soil with the family around, as we're abroad so often."
DRIVING: EIGHTH ROYAL WINDSOR WIN FOR BOYD EXELL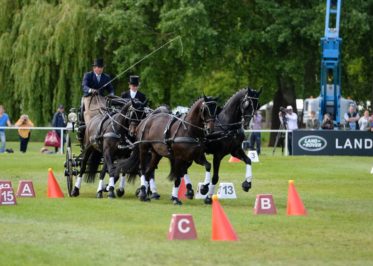 Boyd Exell scored his eighth win in the Land Rover International Driving Grand Prix, having taken his first title in 2004. After a good win in the dressage phase with his team of four mixed Dutch and Swedish-bred horses, the reigning World Champion from Australia drove a steady round, mindful of a young horse in the wheel competing in his first marathon. Second in this phase, by less than one penalty point to his pupil Edouard Simonet from Belgium, he nevertheless retained the top slot overall.
A long technical cones course set by Johan Jacobs from the Netherlands, that was challenging yet fair in the final phase, saw few drivers manage double clear rounds. Exell was one to have a cone down, but he secured the title 13-penalty points ahead of his closest challenger. Simonet, driving a team of impressive Arab cross Friesian black horses, moved up from third into second place in the final ratings, while Koos de Ronde from the Netherlands, seldom out of the top scoring teams, finished third.
Horse Pairs found the cones course no less of a test, and again, fortunes behind the leader changed. Germany's Lars Schwitte led through the first two phases, even though he scored fourth place in the marathon, and with just one cone down in the final phase, he retained his overall first place. A driver who pursues the sport purely for pleasure – he manages his own construction company – and who was competing for the first time here, he was understandably delighted with his result. Behind him Michael Sellier from France, competing for the first time at Royal Windsor, moved up to second place from third, while Gerald Rossler from Austria jumped two places to clinch third.
There were numerous changes in the final standings in the Pony Four-In-Hands section. Jacqueline Walter from Germany had squeezed into first place after the marathon by the narrowest of margins, but the overall win went to the only competitor to post a double clear in the cones, Tinne Bax from Belgium. Bax has competed at Royal Windsor for the last half-a-dozen years, but this is her first win. Her smile showed just how pleased she was. Walter, smiling equally as broadly, pronounced herself completely satisfied to have come second at her third time competing here – she has improved her position each time – while six times Royal Windsor winner, Jan de Boer from the Netherlands, dropped to third place.
In a team competition among Horse Fours competitors – the Netherlands took first place with Ijsbrand Chardon, Theo Timmerman and Koos de Ronde. Belgium was second with Edouard Simonet, Dries Degrieck and Glen Geerts, and Germany third with Georg von Stein, Mareike Harm and Rainer Duen.
SHOWING: DELIGHT FOR HM THE QUEEN AS BARBERS SHOP TRIUMPHS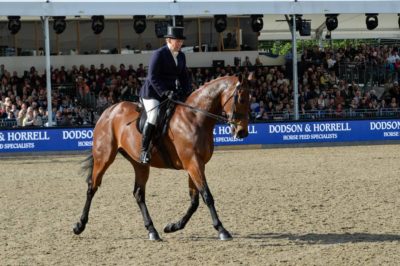 Fourteen high-class contenders of all sizes and types, from an 18hh heavyweight hunter, down to a diminutive Dartmoor lead-reign, entered the Castle Arena for the judging of the Royal Windsor Supreme Ridden Showing Championship sponsored by Dodson & Horrell.
Judged by Olympic Dressage supremo, Richard Davison, and international Show Jumper, William Funnell, tension mounted as competitors entered the arena for the last time, with some horses clearly over-awed by the building atmosphere.
It was HM The Queen's homebred former racehorse Barbers Shop, ridden by Katie Jerram-Hunnable, who took home the prestigious title, the first Supreme Champion to be crowned at Royal Windsor since 2002. Jerram-Hunnable said, ''This is his last year at Royal Windsor Horse Show, so to do this today is just fantastic."
Annabelle Jewks' Diamonds Are Forever, ridden by Allister Hood to be crowned Champion Riding Horse earlier in the week, followed close in second to take the Reserve Champion title.
Elsewhere, the Final of the DAKS Pony Club Mounted Games saw victory go to the young England team, with the Shetland Pony Grand National sponsored by Sandra and Martin Wood was won by Harry Barker, the grandson of legendary commentator Mike Tucker.