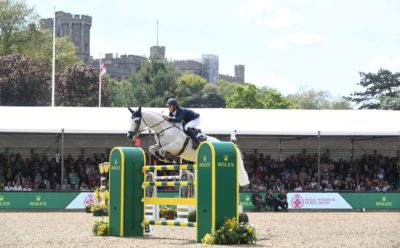 CHI Royal Windsor Horse Show welcomes the world's best horses and athletes from 8-12 May 2019. The Show will play host to elite equestrian competition across four FEI equestrian disciplines: Show Jumping, Dressage, Driving and Endurance.
International CSI5* Show Jumping
Current World No. 1 and winner of the FEI Jumping World Cup™ Final 2019, Steve Guerdat will headline the shortlist of leading riders set to compete in the prestigious Castle Arena at Royal Windsor Horse Show. On Sunday 12 May, in the Rolex Grand Prix – the highlight of the event's Show Jumping action – Guerdat will be looking to emulate last year's victorious performance in the class. This year, with a record-breaking prize fund of €500,000, the Swiss maestro will be determined to maintain his position at the top of the rankings.
Guerdat is one of six of the world's top 10 Show Jumpers set to appear at the 2019 edition of the Show, highlighting the appeal that Royal Windsor enjoys among the jumping community. Competing against Guerdat will be compatriot and this year's FEI Jumping World Cup™ Final silver medallist Martin Fuchs, and current World No. 3-ranked Swedish rider Peder Fredricson. The latter, fresh from claiming a bronze medal on home turf at the FEI Jumping World Cup™ Final in Gothenburg, will be joined by fellow Swede Henrik von Eckermann, the current Rolex Grand Slam live contender.
World No. 5 Daniel Deusser will be returning to the Show in a bid to replicate last year's stellar performance where Germany's Olympic bronze medallist won both the CSI5* Kingdom of Bahrain Stakes for the King's Cup and the CSI5* Pearl Stakes. Kent Farrington rounds off the top 10, and, after returning from a serious leg injury in 2018, is beginning to reclimb the rankings. Given his pedigree, spectators can expect another bold performance from the American rider, who will be hoping to mirror his 2017 victory in the Grand Prix.
Representing Great Britain in the top 10 is Ben Maher, who will be joined by a large British contingent, featuring John, Michael and Robert Whitaker, William Funnell, Laura Renwick and 19-year-old prodigy Harry Charles. Also sure to receive a strong reception from the throng of British supporters will be Scott Brash, the only rider ever to have won the inimitable Rolex Grand Slam of Show Jumping.
One contender who will be particularly popular among music fans is Jessica Springsteen, daughter of rock legend Bruce. The 27-year-old has built a strong Show Jumping career, claiming the CSI5* Falcon Stakes at Royal Windsor Horse Show in 2017.
Travelling from Ireland will be young rider Bertram Allen, who is widely tipped as an up-and-coming talent, and will be joined by his fellow countryman Billy Twomey. Adding further international experience to the class will be Canadian Olympic individual gold medallist Eric Lamaze, and Italians Alberto Zorzi and Lorenzo de Luca.
International CDI4* Dressage
Top riders from across the world will challenge some of Britain's best when the Royal Windsor Horse Show hosts the Al Shira'aa CDI4* Dressage Grand Prix and Freestyle to Music on Thursday 9 and Friday 10 May, respectively. Among the world-renowned names confirmed to compete is homegrown hero Carl Hester, the London 2012 team gold medallist and a rider who needs no introduction. Having already achieved so much within the discipline, Hester will be looking to further add to his illustrious collection of medals and accolades, as he returns riding Nip Tuck. The duo is sure to be backed by vociferous domestic support.
Household name, and the first Dressage rider ever to win Sky Sportswoman of the Year in 2014, Charlotte Dujardin will be returning to the iconic grounds after giving spectators a masterclass in success when she claimed the Dressage title at the Show in 2018. Teammate and friend to Carl Hester, the pair will be putting their friendship to one side as they go head-to-head.
Joining the British team will be Olympian Richard Davison, after coming third – following Dujardin and Hester – in 2018, Davison will be setting his sights on the top spot, along with fellow team mates Louise Anne Bell and Vicky Thompson Winfield.
Adding to the British line-up will be a strong start list of international talent, including Caroline Chew, Katherine Bateson Chandler, Kate Dwyer, and Heike Holstein.
International CAI3*/CAIO4* Driving
The CAIO4* Land Rover International Driving Grand Prix, one of the most important driving events in the UK, and an FEI World Cup™ qualifier, returns for another adrenaline-fuelled competition. A real test of horsemanship, the event includes three stages: driven dressage, the marathon stage, and cone driving for the three competition categories: horse and pony, four-in-hand, and horse pairs.
This year's roster of 28 competitors involves drivers from 11 nations, with arguably the most well-known in the class being Australia's Boyd Exell. The current indoor and outdoor World Champion has had much success at Royal Windsor in the past, with a victory last year propelling him to a total of nine wins at the Show. This year, Exell will be looking to secure an impressive 10th win at Windsor, and further cement his position at the top of the world rankings.
Attempting to foil the Australian's challenge at Windsor will be four drivers from the Netherlands, three of whom feature in the top 10 of the Driving World Rankings, with both Bram Chardon and Koos de Ronde accompanying Exell in the top three. Bram Chardon will be competing against his father and multiple world champion Ijsbrand Chardon. Completing the Dutch quartet is Mark Weusthof, he himself a FEI World Driving Championships gold medallist.
The CAIO4* will be heavily dominated by British drivers, with six athletes competing, including well-known equestrian stuntman Daniel Naprous, who, in recent years, has put in a number of thrilling performances at indoor shows, such as Olympia, The London International Horse Show. Completed by experienced sisters Karen and Pippa Bassett, as well as Wilf Bowman-Ripley, James Broome, and Dick Lane, Great Britain's four-in-hand line-up looks set to mount a strong challenge.
A back-to-back 2014 and 2015 winner, the USA's Chester Weber is no stranger to success here and will be looking to regain the form that pushed him up the rankings. He is joined by his compatriot Misdee Wrigley-Miller.
In the CAI3*competition, the horse pairs will contain a field of 20 athletes from 10 countries, including four-time Windsor horse pairs winner Beat Schenk. The Swiss will be looking to emulate his 2018 performance at the Show but will face stiff opposition from British competitors David Matthews, Libby Priest and Chris Smith, the current chairman of British Carriagedriving.
Another eight drivers will compete in the CAI3* pony four-in-hand, including Roger Campbell, who picked up third place at the 2018 edition of Royal Windsor Horse Show. Campbell will believe he can elevate himself to the next level and pick up first place this year. The Netherlands' Jan de Boer, last year's winner, already has seven wins to his name at Windsor and will hope to perform once again to the same high standards that he holds himself to. However, he will have to contest the vocal support of the home crowd for domestic drivers Sara Howe and Rowena Moyse.
International CEI1*/CEI2* Endurance
On Friday 10 May, Windsor will welcome competitors for the Royal Windsor Endurance supported by the Kingdom of Bahrain. The long-distance event will see the best equestrians from around the world ride across Windsor and Ascot countryside, as they compete in the 80km and 120km classes, which will be a true test of stamina and teamwork.
Show Director Simon Brooks Ward said: "The quality of international entries that 2019's Show has managed to attract is testament to Royal Windsor's strong appeal and stature within the equestrian community, furthering its reputation as one of the world's top shows. Once again, we welcome the world's best horse and rider combinations to Windsor and are excited to host a number of elite equestrian competitions for our loyal spectators."
Entries can be found here.