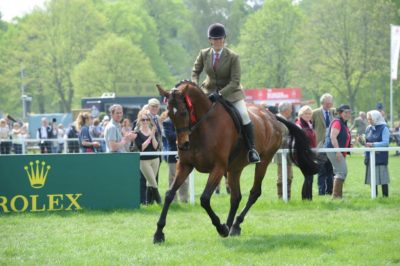 The 'big guns' of the show hunter world are gearing up to vie for this year's top honours at Royal Windsor Horse Show, taking place in the private grounds of Windsor Castle from Wednesday 9 – Sunday 13 May 2018.
Locally-based Jayne Ross, who fielded last year's novice and open hunter champions for the first time in her career, is planning to defend her open title with the heavyweight open victor Bloomfield Excelsior, a champion at Horse of the Year Show (HOYS) in 2016, who went on to win at the Royal International last July and has one title under his belt already this season. He is now owned by Nottinghamshire-based Polly Coles, but Jayne has retained the ride. Jayne's novice contender will be Jill Marsden and Tanya Moulden's hugely promising six-year-old, Twinshock Warrior, who has already notched up three open wins as well as a novice title this season.
Also from Jayne's yard, last year's novice champion, Bloomfield Valhalla, will contest amateur ranks with his owner Bella Malim, and owner Lucy Cameron will take Jayne's 2017 ladies' class winner, Time 2 Reflect, in the amateur lightweights.
"We are all so much looking forward to the show," said Jayne. "There's something so very special about it, not just the Royal connection, but the whole atmosphere. It's one of my all-time favourites."
Team Ross will face strong competition, not least from Cheshire-based producer Robert Walker, whose name already appears on the famous Royal Windsor hunter trophies several times. He brings Jill Day's reigning Great Yorkshire and HOYS champion View Point, reserve champion in the Castle Arena last year, to contest the lightweight class, and the same owner's big chestnut Patric's Choice, already a champion this season, will feature in the heavyweights.
"We always aim our best horses for Windsor, it's one of the real 'biggies' for everyone who shows hunters and a championship win here seems to set an animal's season alight," said Robert, who landed both novice and open titles in 2016. "I'd love to do the double again but the competition is always hot — I haven't decided yet which of the novices I'll bring, and I also have a four-year-old I'm very excited about."
Her Majesty The Queen's former racehorse and last year's supreme ridden champion, Barbers Shop, is officially retiring in a special ceremony during the show but Essex-based Katie Jerram-Hunnable still has aces in her hand for her royal owner.
Katie, currently sidelined after breaking a bone in her neck, is another with an impressive Royal Windsor record, having been open hunter champion twice with Dunbeacon. This year, she will be overseeing husband Chris Hunnable as he makes his Windsor Showing debut with HM The Queen's heavyweight Tower Bridge, as well as the 2013 Windsor novice champion — and now consistent open winner — the lightweight Gortglas Rinarinca.
"We're also bringing Her Majesty's new novice riding horse, Donation," said Katie. "We're very excited about him, as he's already won all three of his novice classes. I'd much rather be riding myself, but Chris is doing a fabulous job and I hope to be allowed to get back on towards the end of the year."
Native pony specialist Lizzie Finlayson-Briant has another exciting prospect for Her Majesty The Queen. This is the home-bred eight-year-old stallion, Balmoral Mandarin, who arrived at Lizzie's Bristol yard last autumn after standing at Balmoral Stud in Scotland.
"He won at the Royal Highland himself as a yearling, and a filly by him won there last year," said Lizzie. "He's already been supreme ridden champion at a native show in Somerset with us this season and recently qualified for the Royal International at his very first attempt."
The Showing classes will culminate in the coveted supreme ridden championship, which is open to all section champions, both horses and ponies, and takes place in the Castle Arena on Sunday afternoon.